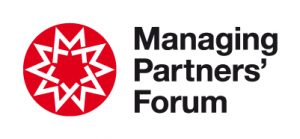 Professional services may be the largest business sector in Canada but it does not speak with a single voice. In addition, leaders of firms of all sizes (whether one-office, provincial, regional or national) do not always have the tools or time to advance productivity, adopt innovation, enhance collaboration, or provide greater value to their clients – basically to re-engineer their firms for a profitable future.
A valuable partner
This is where the Managing Partners' Forum can be such a valuable partner. Our purpose is to support the growth, productivity and prosperity of professional services – e.g. legal, accountancy, consultancy, engineering, real estate advisory etc. The 100 firms that currently belong to the Forum bring together tens of thousands of professionals worldwide.
An exclusive international community
Reap the substantial benefits of belonging to an exclusive international community of peers. The Forum is just for leaders of professional firms – Managing Partners/CEOs; Senior Partners/Chairs; Divisional leaders (e.g. office, regional or practice heads); and COOs. In addition to creating connectivity and value with each other, we help our members be the best they can at improving their firms, with the ripple effect of doing the same for their clients.
An influential independent voice
The Forum constantly promotes the vital contribution of the sector to the economy, local communities and public life. We act as an independent voice on behalf of the sector to professional associations, government regulatory bodies and other influential key audiences that have an impact on the sector. Current campaigns and projects include:
A UK Government-funded project involving four business schools to research the extent that collaborative design could help firms adopt artificial intelligence.
Encouraging leaders and management teams at sector firms to help enhance client productivity through advising their peers at clients on ways to improve management practices and boost employee engagement, and/or through serving as Non-Executive Directors on client Boards.
Tailored services for local members
The Forum provides connectivity to gain perspective on common issues and priorities through multiple routes, all tailored to member needs based on feedback. Current services in Canada include:
Leader Roundtables: Bi-monthly meetings with interesting presenters to explore important aspects of strategic leadership, under the moderation of professional services specialist mentor and facilitator Larry Stroud. Benefits include: greater clarity over priorities; new capabilities and skills; knowledge, insights and practical tips; and new contacts and relationships:

Restricted to 20 members. No substitutes.
A guest presenter is invited to brief on their topic of expertise followed by an open discussion conducted under the Chatham House Rule (see below).
All participants receive a free copy when a presenter has recently written a book or paper on the topic.
Short notice meetings are arranged when Harvard Business Review authors are in town.

Peer Groups: The same eight to nine members meeting every six weeks to explore issues 'in the moment'. Peer Groups may also be formed for the Chiefs of Talent, Technology, Knowledge, Innovation, Client Service, Business Development and Marketing at firms with a current member.
Excellence Awards: The Forum, with its knowledge partners Harvard Business Review and the Financial Times, has organised annual Awards for management excellence since 2002. The Awards help clients select advisers, and also shine a spotlight on the vital contribution made by management experts to the strategy and smooth operation of their firms.Over 200 professional firms located worldwide have entered to date, many on multiple occasions, including Canadian law firms e.g. McCarthy Tétrault which won two categories in 2016. The ceremony is held in London in March each year.
Knowledge tools: Event reports; White papers; AI Cascades; Management Library; Sector News; Survey findings.
Summits: Meet international members at quarterly half-day summits in London UK, covering leadership (January), strategy (March), productivity (June) and technology (November).
The Chatham House Rule
The Rule originated at Chatham House (The Royal Institute of International Affairs in London) with the aim of encouraging openness of discussion and facilitating the sharing of information. It is now used throughout the world as an aid to free discussion of sensitive issues. It provides a way for speakers to openly discuss their views in private while allowing the topic and nature of the debate to be made public and contribute to a broader conversation.
The Rule reads as follows: "When a meeting, or part thereof, is held under the Rule, participants are free to use the information received, but neither the identity nor the affiliation of the speaker(s), nor that of any other participant, may be revealed."